Colorbond Fencing Canberra supply and install.
Colorbond Fencing Canberra is your local fencing business for the Canberra region.  Our business is your fence from removal to supply and installation. See the fencing prices page to get an idea of the cost and then contact us for an onsite visit and formal quote. Colorbond fencing comes in a range of sizes and colours. We can meet all your fencing requirements in Canberra. We can supply and install Colorbond fencing, Colorbond gates and Colorbond fence extensions in a range of colours and heights.
Colorbond Fencing Panels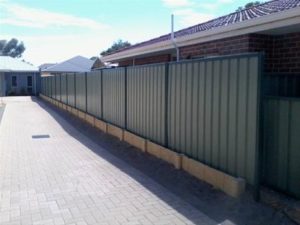 There are three standard height sizes for Colorbond fencing panels 1.5 metres, 1.8 metres and 2.1 metres.
On sloping ground, you can have the top of your fence stepped or a continuous grade. For a continuous grade a 2.1 metre high standard fence panel is cut on an angle to give you a 1.8 high fence.
Colorbond Gates
Gates can be made in any size, height and width from colorbond steel to match any colorbond fence. From a single pedestrian gate to a double driveway gate or an automatic sliding gate. On our pricing page you will find the price for a standard single and double gate.
Colorbond Fence Extensions
Colorbond fence extensions to match your existing or new fence. Lattice fence extensions come in a variety of styles and provide a decorative look and add privacy.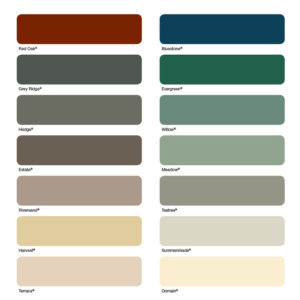 Colorbond F

encing Colours
Fencing and Fences Canberra supply and install Colorbond fencing in a variety of colours. The standard range of Colorbond fencing colours are to the left and we will bring sample swatches when attending onsite quotes. Colorbond Fencing Canberra.
Contact Fencing and Fences Canberra for a free quote or an onsite consultation.
How much does a Colorbond fence cost in Canberra?
Prices will range from $96.00 to $140.00 per fence panel. Depending on height. Plus the cost of installation and removal of the existing fence.
How much to install a Colorbond fence in Canberra?
Installation cost for a colorbond fence is between $65.00 and $85.00 per lineal metre. Plus the cost of the fence.
How much to supply and install a Colorbond fence?
The cost of a new Colorbond fence is between $160.00 and $225.00 per lineal metre inclusive of GST. Depending on height, access to site and ground level. Plus the cost of removing old fence.